OmegaVia is a Proud supporter of the:
Giving Our Children
What They Need to Succeed
Every parent wants to see their child excel in school and in life. We strive to give our children every advantage, everything we can do to help them reach their potential.
But sometimes it's hard to know what you should be doing... especially when it comes to learning and behavior. Kids don't exactly come with an owner's manual, and the fact is most pediatrician visits rarely include discussions on nutrition.
Getting enough adequate Omega-3 DHA each day is critical for a child's brain development and their eye development as well.
Since most children fall far short of their daily Omega-3 nutritional needs through diet, it's important to supplement.
However, when it comes to Omega-3 supplements for kids, the options are few.
First it needs to be a fish oil. Plants simply do not provide DHA, and children lack the enzymes to efficiently convert the Omega's in plants to DHA. So fish oil is the best choice for kids. The problem is that most children will not take a fish oil softgel. But the top alternative to softgels has parents caught in what's referred to by dieticians and nutritionists as...
Levels of Omega-3 fatty acids in the blood significantly predicted a child's behavior and ability to learn … higher levels of Omega-3 in the blood, and DHA in particular, were associated with better reading and memory, as well as with fewer behavior problems as rated by parents and teachers.
Paul Montgomery, Ph. D.
Oxford University Researcher
The Gummy Trap
Gummy chewable supplements, with Omega-3s for kids, have been out for years now. And yes, children like them because they are so sweet, but...
There are 3 serious problems with gummies that are
causing parents everywhere to dump their gummies!
1
Gummies are loaded with sugar
Inside and out. Their sugar content is so high in many of the national brands that it can account for up to 25% of the total sugar a child should get in a whole day. To make it worse, gummies commonly stick to teeth causing a host of potential dental problems for kids.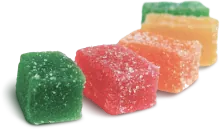 2
Gummies are made with processed vegetable oils
Which means gummies have two of the worst, most inflammatory things for your child's brain... sugar and processed oil. Not what your child should be having first thing in the morning before school!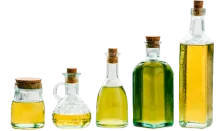 3
Gummies don't provide enough Omega-3
Gummies provide well below what pediatric nutritionists recommend. Sadly, most parents are not aware of this, and are unknowingly giving their children what is essentially candy each morning with little Omega-3 nutritional value inside.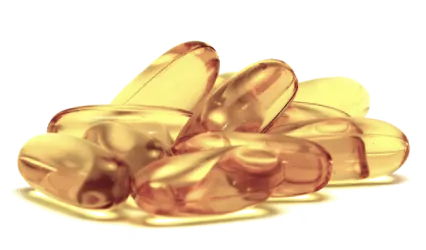 OmegaVia Chewies
Brought
an End to
"The Gummy Trap"
New Chewies address all the problems with Gummies with a new soft chew confection kids and parents love. Kids' love Chewies for the taste and they're so fun to eat. An individual treat they get to pop open and eat each day.
A healthy morning treat they'll ask for each day... how easy is that?
Parents Love OmegaVia Chewies because...
100% sugar-free
Contain no processed vegetable oils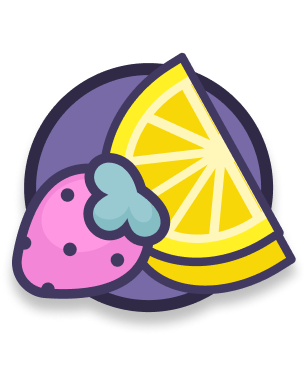 Naturally fruit flavored
(strawberry-citrus)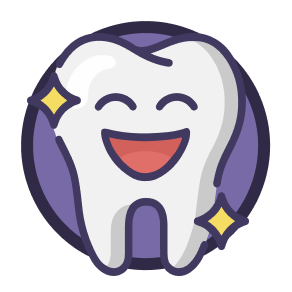 Don't stick to teeth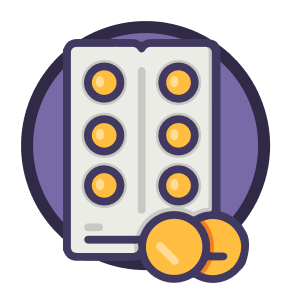 Individually wrapped for freshness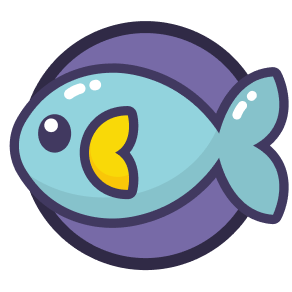 Provide 100% of a child's daily Omega-3 needs
* Under 5 years old: 1 Chewie per day (400 mg of Omega-3)
Over 5 years old: 2 Chewies per day (800 mg Omega-3)
OmegaVia Chewies Brought an End
to "The Gummy Trap"
DHA and Children
If you're a mother, perhaps you remember back when you were pregnant and the doctor or nurse (or midwife or doula) kept stressing the importance of taking a daily Omega-3 DHA supplement during your pregnancy.
You probably learned at that time that a good portion of your child's brain development happens when the child is in the womb, and your baby's brain needs DHA.
Well, that is true, but it doesn't stop there...
Studies have shown that low Omega-3 DHA levels early in a child's life are linked to poor cognitive development, struggles with learning and focus, anti-social behavior and more. Whether your child has these challenges or not, this is about your child reaching his or her cognitive potential... being their best. Without adequate DHA intake, they simply cannot reach that potential."
Paul Montgomery, Ph. D.
Oxford University Researcher
Brain development, nutritionally fueled by Omega-3 DHA, continues through childhood, particularly in the first ten years of life.
How well your child's brain does or does not develop in those early years will have a lasting impact on your child's ability to succeed in school and life.
It literally helps set the stage for his or her future cognitive abilities, and social and emotional well-being as well. As a parent it's your responsibility to ensure that your child is getting enough Omega-3 DHA in these critical early years.
What is DHA?
Docosahexaenoic acid (DHA) is an Omega-3 fatty acid that is essential for brain development during pregnancy and early childhood. This long-chain fatty acid is found in cell membranes throughout the brain and body and helps to transmit messages between nerves.
The brain is a fatty organ, and 90% of the polyunsaturated fatty acids in the brain are DHA, which is concentrated in the brain's gray matter. Having adequate levels of DHA makes it easier and more efficient for nerve cells to communicate with each other.
However, DHA is only produced in very small quantities by our bodies, so to achieve adequate amounts DHA needs to be taken in through dietary sources such as cold-water fish, grass-fed meat, dairy products, or omega-3 enriched or pasture-raised eggs.
Unfortunately, most children do not get enough DHA from diet. So a daily DHA-rich Omega-3 supplement is necessary for parents to have the assurance that their children maintain optimal blood levels of DHA as their brains' develop.
Brain Development
in the Early Years
The brain is divided into different lobes with specific functions. However, it's the frontal lobe and prefrontal cortex in the brain where most of the learning and behavioral activity happens.
The frontal lobes are responsible for executive
functions including focus and attention,
planning and problem solving.
The prefrontal cortex is responsible for social, emotional and behavioral development.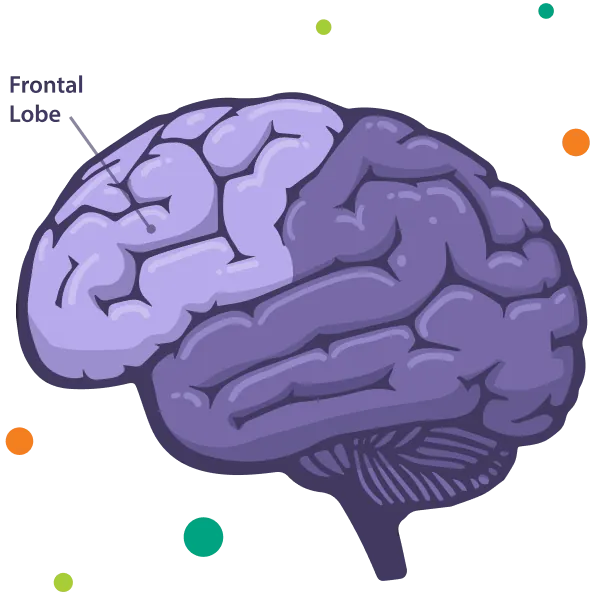 These are the areas of the brain that should be rapidly growing and developing in your child's early years, and they're fueled primarily by DHA.
DHA is also a critical nutrient for other areas in the body. Early eye development, your child's retina in particular, is also fueled by DHA. And they're great for the heart as well.
The problem in the U.S. is that most children's diets are severely lacking in DHA, this has been very documented. Most children 10 and under are not getting their recommended intake levels of DHA... not even close!
That's where supplements come in... With new, sugar-free OmegaVia DHA Chewies, you're covered. We make parenting easy... at least nutritionally!
So Just How Do You Make It Taste So Good?

The Norwegian Secret:


No fishy taste or smell and
better absorption too!

The secret behind sugar-free Chewies comes out of beautiful cold Norway, the world's authority on fish oil experts. Chewies's patented chewable technology was developed through a joint partnership with Norwegian University of Science and Technology (NTNU).

It's so effective at avoiding the fishy taste and smell because it emulsifies the Omega-3 into billions of tiny droplets then hides it inside the flavored gelatin chewies. Watch how!
Bottom line is when kids eat Chewies they think they're getting away with eating candy...
When what they're really getting is a whole lot of Omegas! No fish
oil taste or odor with much better absorption and bioavailability
than gummies. And no one's the wiser!
New Sugar-Free Patented Chewie Technology means...
Easy-to-take without water

Delicious taste

No sugar

Happy kids and parents!
Ultra-high absorption

Lots of Omegas

Always fresh – Every Chewie is individually packed
Purity and freshness are big concerns when it comes to fish oil...
It's important to make sure that the fish oil you're giving your kids is free of mercury, PCB's and other environmental toxins...
But just how do you do that?
Easy! Just follow these
three steps...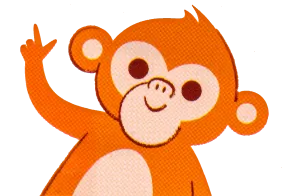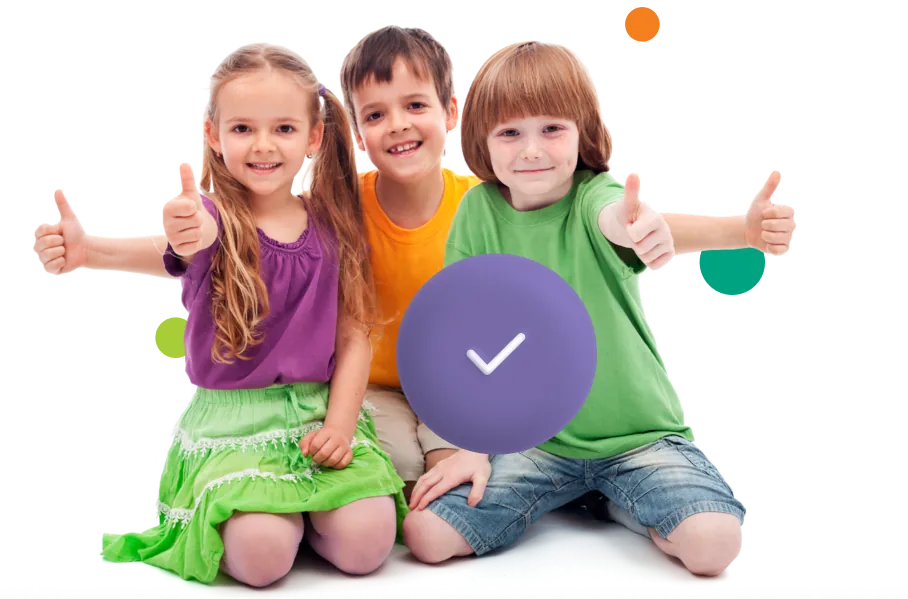 Step 1...

Check out the
type of fish that was used

It will be listed right on the label.

The fish should be only small-fish like sardines, anchovies and mackerel... exactly what you get with OmegaVia chewies.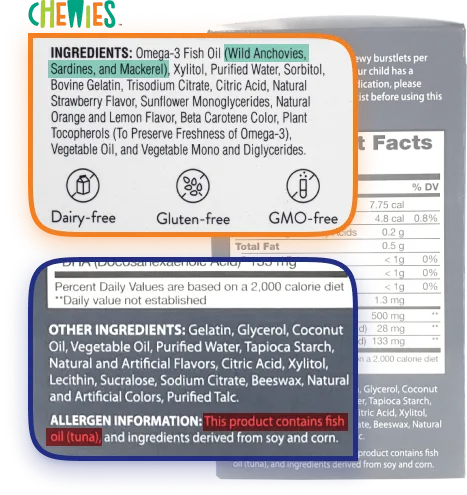 These are all considered to be naturally clean fish because they are lower on the food chain. Also check to confirm that they are sustainably sourced, it should be noted on the packaging as well.
Some brands, especially the discount brands, use Tuna, or other high food chain predatory fish, because they're cheaper.
These bigger fish are known to carry much higher levels of environmental toxins, like mercury, than small fish. A major red flag... avoid any brands using these types of fish.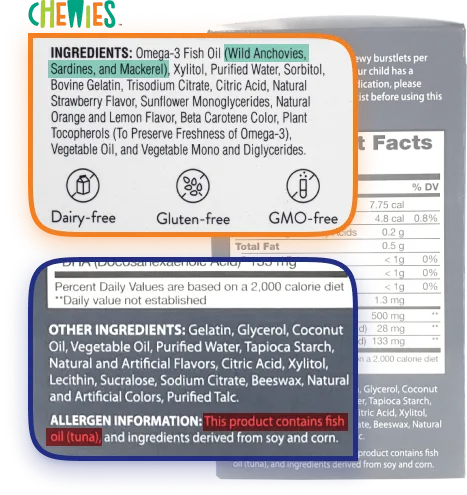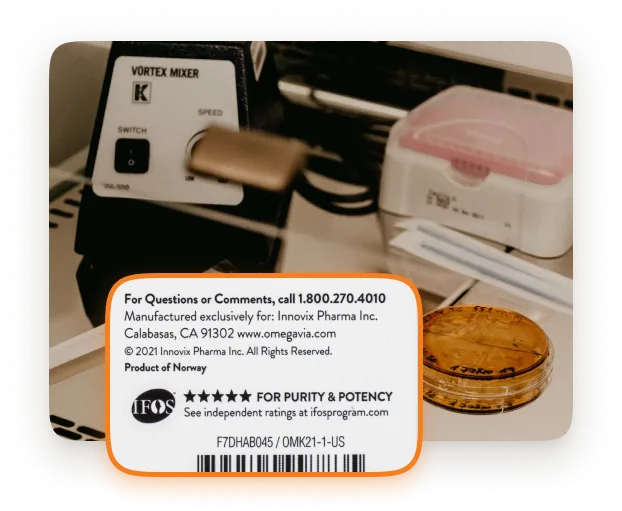 Step 2...

Check to see if it's been

third party tested and certified.

Again, OmegaVia Chewies shine here.

Not only is OmegaVia third party tested by, not just one but three different independent labs before it's shipped to you (an exceptional standard that only OmegaVia follows) its purity has also been recognized as 5-star by IFOS, the top international group for independent testing and certifying fish oils.

Look for the 5-Star IFOS Purity logo on the label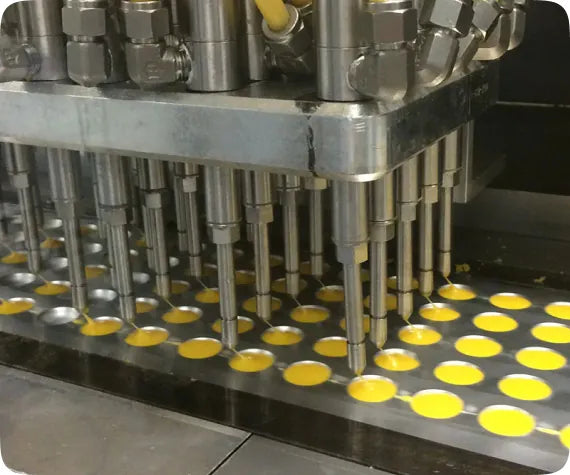 Step 3...

choose an Omega-3 that is individually sealed versus in a box.

Sealing keeps out oxygen, which is important because oxygen exposure is what causes Omegas to go rancid. Omegvia Chewies are processed in Norway in a 100% oxygen-free environment, then are sealed air-tight.
The Freshness Secret
Chewies entire manufacturing process is done under nitrogen and argon. An oxygen-free environment that keeps Chewies fresh for 2 years!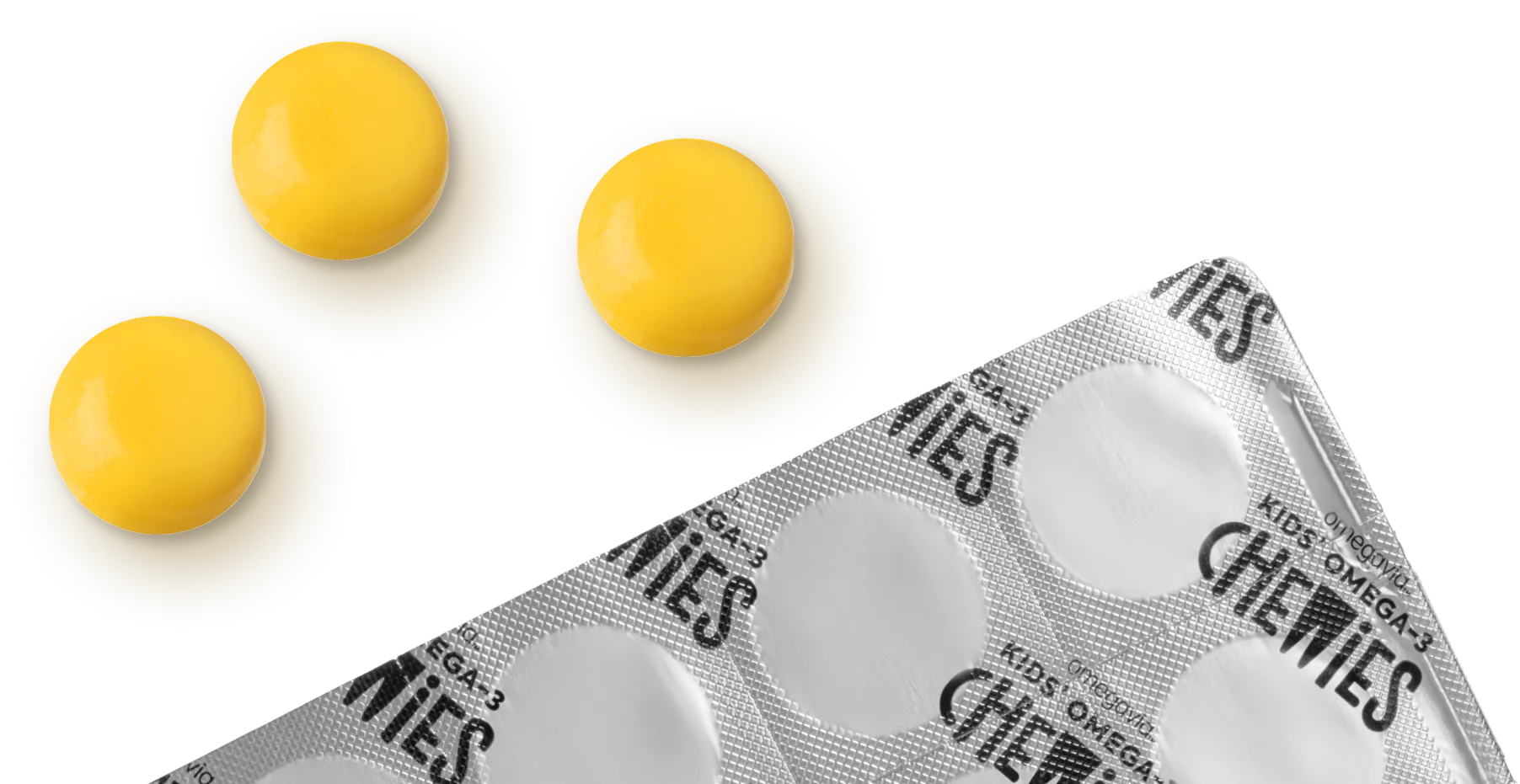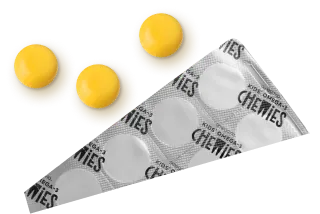 Importance of Individual Packaging
Fresh fish oil is relatively odorless. OmegaVia Chewies never come in contact with oxygen because they come in individually sealed blister packs. Chewies are always fresh... you'll never smell or taste anything fishy. Watch!
Supplemental Facts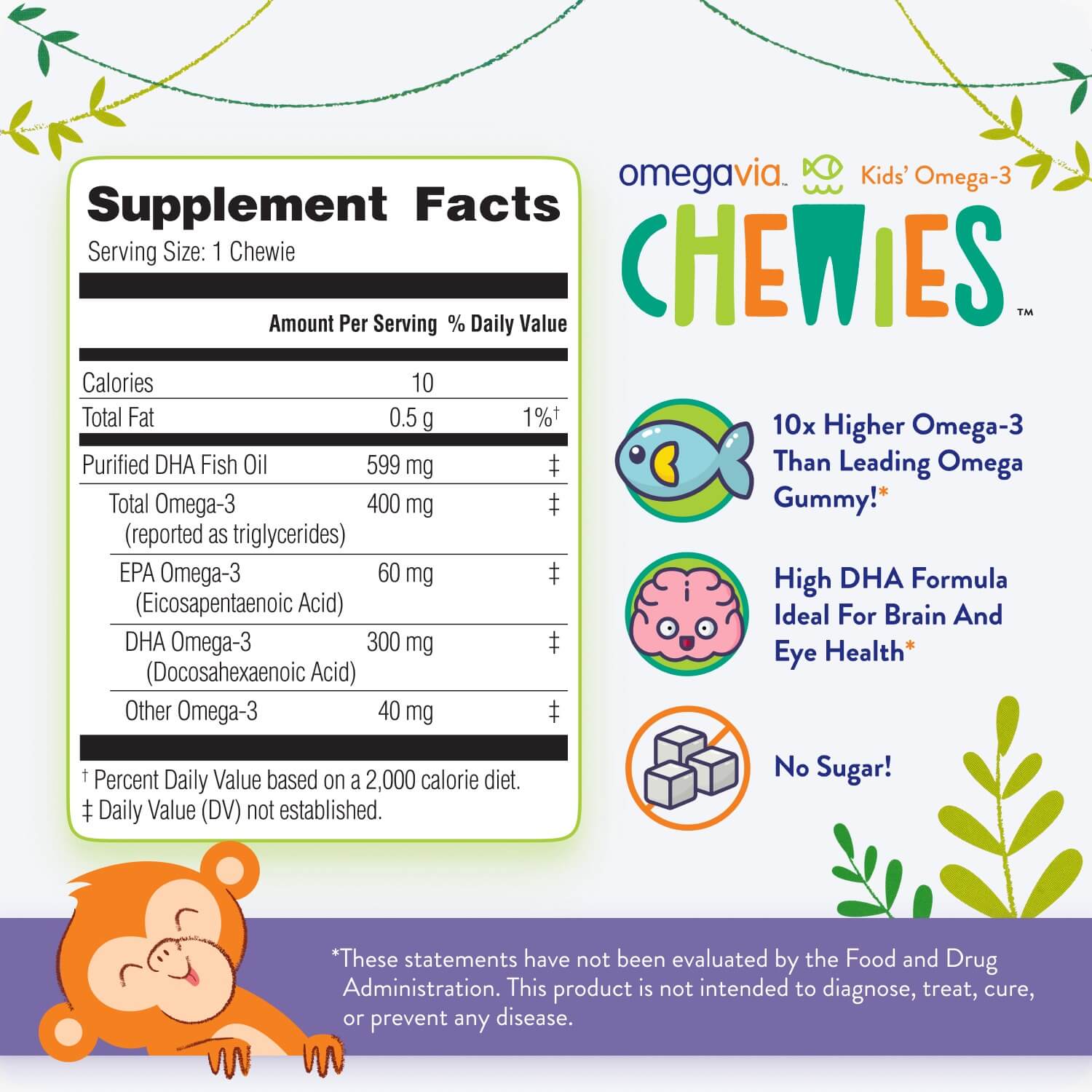 Let's go bananas!
It's definitely a tasty flavor kids love (strawberry citrus)! No struggling to take these. They are a favorite in this house. The kids look forward to their BANANA SLIME! (Because they are yellow have a jelly consistencyand have cute little monkeys on the box. Don't worry that are definitely not slimy) They think it's cool. I think it's great because it has omegas, vitamin D3 and K2 and is non GMO. Is also free dairy, shellfish, eggs, wheat/gluten, peanuts, soy protein and yeast. I've tried them and I agree yummy! No fishy aftertaste.
My daughter loves the Omega-3 Chewies
My daughter adores the Omega-3 Chewies. The texture of the chewies is perfect for her, and the shape resembles that of an egg yolk. The fruity flavor is delightful and not fishy at all. It could be a great snack for adults as well. As a mother, I am particularly interested in the health benefits of these chewies. My daughter claims that they help her study better, and I believe proper nutrition is crucial for a child's future success.
My 15 year old son loves it!
Toddler approved
My toddler loves them and every morning asks for her vitamin. She loves the taste of them.
Real People. Real Results.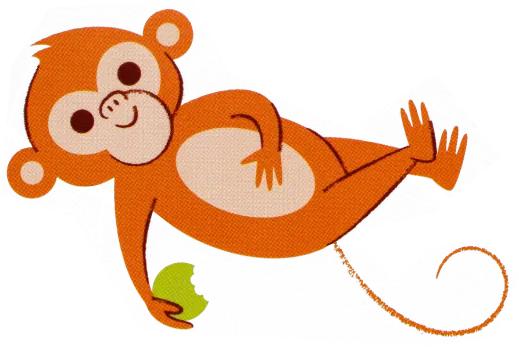 You have Questions.
We have answers.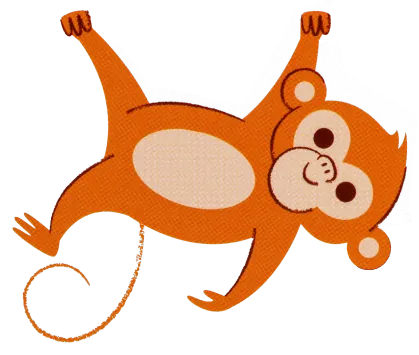 100% Money Back Guarantee
Hassle-free Return Policy
When you buy online, you can't touch or feel the product before you buy. We understand. So we respect your right to change your mind after you buy.
No need to send back your opened product.*
If you have unopened product that you wish to return, please email us or call us at 1-800-270-4010 anytime between 9AM and 5PM Pacific Time.
And we'll send you a prepaid return shipping label so you can easily get it back to us at no cost to you.
Money back guarantee and free return policies apply to US customers only. Purchases made from outside the United States are non-refundable.
* refund will only be issued on your 1st opened box
Not thrilled with your purchase?
No questions asked. Like we said, hassle-free.

Return within 90 days of purchase.

If you tell us why you were not happy, we promise to do our best to correct the problem right away.

If you try OmegaVia and don't like it, we will cheerfully refund your full purchase price and shipping cost of your first box of OmegaVia. (US only)